Bibliographie des œuvres d'A. E. W. Mason.
Retour à la page consacrée à Mason.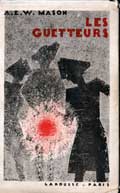 1894 Blanche de Malétroit (théâtre).
1895 A Romance of Wastdale.
1896 The Courtship of Morrice Buckler.
1897 The Philanderers.
1897 Lawrence Clavering.
1899 Miranda of the Balcony.
1899 The Watchers; Les guetteurs, Paris, Larousse, "Contes et romans pour tous", série beige, 1929.
1900 Parson Kelly (en collaboration avec Andrew Lang).
1901 Ensign Knightley, and Other Stories (nouvelles).
1901 Clementina.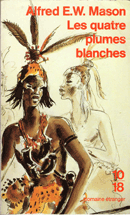 1902 The Four Feathers; Les quatre plumes blanches, Paris, Juven, 1907 ; Paris, Intercontinentale du Livre, Les Grands romans de l'Inter, 1956 ; Verviers, Marabout Géant, 1961 ; Paris, Phébus, 1990 ; Paris, France loisirs, 1991, Paris, UGE, 10/18, 1994.
1904 The Truants.
1907 Running Water; L'eau vive, Edimbourg, Nelson, sans date.
1907 The Broken Road.
1909 Colonel Smith (théâtre).
1910 At the Villa Rose; Le Trésor de la Villa Rose, Paris, Librairie des Champs Elysées, Le Masque, 1935 ; Paris, Librairie des Champs Elysées, Le Masque, Les Introuvables du Masque, 1995.
1910 Green Stockings (théâtre).
1912 The Turnstile.
1913 The Witness for the Defence (théâtre).
1913 The Witness for the Defence; Le témoin de la défense, Paris, Albin Michel, Nouvelle collection Albin Michel, 1921.
1917 The Four Corners of the World (nouvelles); La Maison de la peur ("The House of Terror", une partie seulement des nouvelle a sans doute été traduite), Supplément de l'″Illustration″, Romans, 1910; La Maison de terreur, Paris, E. Fasquelle, 1917; Sur Trois continents, Paris, La Petite Illustration, 1930 (n° 504; seule une partie du texte est traduite) ; La Mélodie de la mort, par Edgar Wallace, suivi de l'Affaire du Sémiramis, par A. E. W. Mason, Paris, Librairie des Champs Elysées, Le Masque, 1932 (une nouvelle seulement est traduite : « The Affair at the 'Semiramis Hotel' ») ; « L'affaire du Sémiramis », Ellery Queen, Mystère-Magazine, n° 41, 1951.
1920 The Royal Exchange.
1920 The Summons.
1923 The Winding Stair.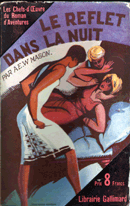 1924 The House of the Arrow; Le reflet dans la nuit, Paris, Gallimard, Les Chefs d'oeuvres du roman d'aventures, 1928.
1927 No Other Tiger; Les méprises de Lady Ariane, Paris, Albin Michel, Collection les Maîtres de la Littérature Etrangère, 1933.
1928 At the Villa Rose, (théâtre).
1928 The Prisoner in the Opal.
1930 The Dean's Elbow.
1932 The Three Gentlemen.
1933 The Sapphire.
1934 A Present from Margate, (en collaboration avec Ian Hay, théâtre).
1934 Dilemmas.
1935 They Wouldn't be Chessmen.
1935 Sir George Alexander and the St James's Theatre.
1936 Fire Over England.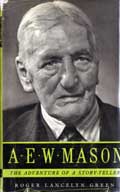 1937 The Drum.
1938 Königsmark.
1941 The Life of Francis Drake (essai).
1942 Musk and Amber.
1946 The House in Lordship Lane.